Welcome to SAVE OUR CHILDREN'S FUTURE
Anti-Drug Hot Line

Tom can be your next Anti-Drug Speaker to your PTA, or community group anywhere in the
World by way of Skype or Wireless Phone!


610-331-3863
You have Questions
We have the Answers!
Our Goal is to educate the Mothers and the Fathers of America about the Horror, the Danger,
the Evil and the Sadness that Illegal drugs will bring to your family! Parents who have experienced
this NIGHTMARE of a problem said that they never believed that their children would be involved
with Drugs! Our Kids are too GOOD, our Kids are DRUG PROOF!

This will never happen to our Kids!
Sadly it does happen and it happens often! As Parents you never think that you will bury a child of
yours because of DRUGS! But read the SAD stories and view the SAD videos that are shown here
on this website! You may think that educating K-1 to 5 grade children is too young! But you must
understand that these young minds need that HEAD START of four to five years of your education
to defend themselves against the day that a friend will talk
them into trying drugs just once at a Party!

WITH MANY DRUGS, YOU CAN NOT TRY THEM JUST ONCE!
Read the stories about the Meth addicts who were sure that they could handle
this little pill! Hey, it's only a little pill what's the BIG DEAL!

We want to ALARM you!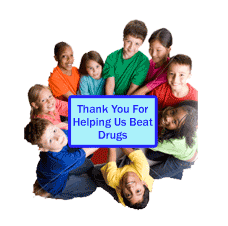 We want to give you a FIVE ALARM WARNING that you
need to pay attention too!
Because once your child has taken a Hard Drug you may loose
them for ten to fifteen years or you may bury them sometime's
in the Future! This is our first posting of this website! You will
discover that we are under construction and that most of
the website is not completed and that is where you can HELP us.
We need your financial support to finish our work! Please click on
Millions of Mothers Against Drugs for
more information! Because we are still under construction with
this website so we ask that you return once a month
to see our progress! We need your help to help
you defend your children against the Evil of drugs!
Please send us donation to help build this site!
Thank you!
Tom Catanese
President